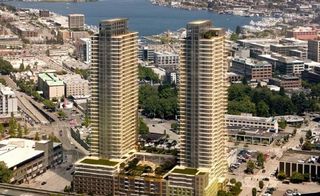 Insignia started sales on its north tower 6 weeks ago and has, to date, sold 100 units.
With approximately 348 units in the north tower, that means they are already ~28% sold. And have sold an average of 17 condos per week since the grand opening for the north tower.
In the north tower, one bedrooms are priced from the $500,000s and two bedrooms are priced from the $600,000s.
One other interesting tidbit is we noticed that all of the units with large outdoor patio spaces, located on floors 7 and 9, have already sold. It seems that outdoor space is a commodity. Something to keep in mind when investing in a condo and for future developers to note when designing buildings.
By Marco Kronen with Seattle Condo Review: A guide to Seattle downtown condos.