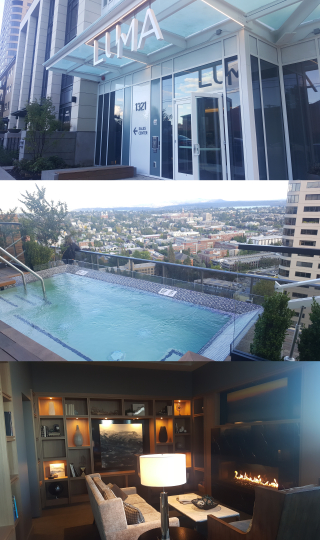 All I can really say is one word- Impressed!
Last night Loren and I swung by the rooftop terrace get-together at the new Luma Condominiums on First Hill.
As a welcoming and congratulations to their new condo owners, the building was fully open for the first time for owners to see the new amenity spaces, which are all located up on the top level and roof of the building (except the gym on floor 2). Our clients who have purchased in Luma live out of the area, so we were more than stoked to go on their behalves and can't wait to show them the photos.  As many of you know, we try to remain very objective with our condo reviews, but I do have to say that my 'hats off' to this project.  It turned out even better than the great things I already expected.
First impressions were great.  The lobby is fantastic but not too over the top. Great art, and a fun vibe at the same time. The amenities on the roof include a large outdoor deck space with ample seating areas, tons of comfortable high end furniture, two separate BBQ areas and a very rare find in the much talked about roof top hot tub with southern views. Inside we loved the level of finishes and the generous size of the spaces including the very large party room, with additional gathering areas in the fire side lounge, a very cozy library with its own deck and BBQ, and even a bonus of a catering kitchen on top of the huge kitchen in the party room.  And the best feature in my opinion, were the views! They were expansive and very impressive.  Due to Luma's location on the crest of First Hill, there are some big time views people!  And they are unique views that aren't common in condos in our city because you get a cool perspective of the downtown skyline from the east side as opposed to the more common views people are used to seeing from the north or from the water on the west side.  Also, there were very expansive views looking toward lake union to the north, and out to the east and southeast you can even see Lake Washington, the Cascade Mountains, the Bellevue skyline and Mt. Rainer to the south.
It's very well done, and now I'm even more excited to make sure our buyers that have not yet considered Luma get a chance to look at this building.  There are only 28 units left now that the sales center is in the condo building and tours of actual units are available, it' s a great time to look at this awesome condo building.
Well done Luma!
By Marco Kronen with Seattle Condo Review: A guide to Seattle downtown condos.