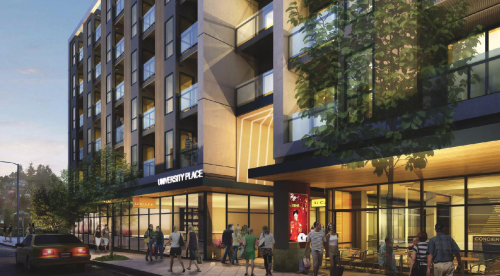 The newest condominium development project has been announced and it will be called U Place at Union Bay. It will be built near the University Village at 4603 Union Bay Place NE, just east of the Safeway (the building will back up to Safeway).
According to the PSBJ, Chinese developer, ZQH Investment, will build a six story mixed-use project and intends to break ground this month. This will be their first project in the United States but they have built condo buildings in China. The project anticipates being completed in 2018.
U Place will contain 244 condominium units, of which 217 will be small studios (342-414sf), 22 one bedrooms (452-603sf) and 5 two bedrooms (959sf).  The spaces will be efficient and versatile to encourage customization.  The plan for the first floor is to have a food court and restaurants. There will be only 69 parking stalls. The amenities will include a 2nd floor garden deck area and a roof top deck.
We typically comment on how the Washington State Condominium Act and difficult-to-come-by construction financing is to blame for the lack of condo buildings being built. How are they getting around this you ask? For one, they are self-financing the project so there is no concern regarding obtaining financing, which is what Insignia did if you might remember. As for our state's defect laws, the developer said they are willing to take the risk and to minimize that risk they have hired an experienced contractor in Chinn Construction out of Redmond, they plan to use materials with warranties and they have obtained the needed insurance policies top protect themselves and the future owners.
We are curious to see how a building of mainly studios will be received by the market.
By Marco Kronen with Seattle Condo Review: A guide to Seattle downtown condos.