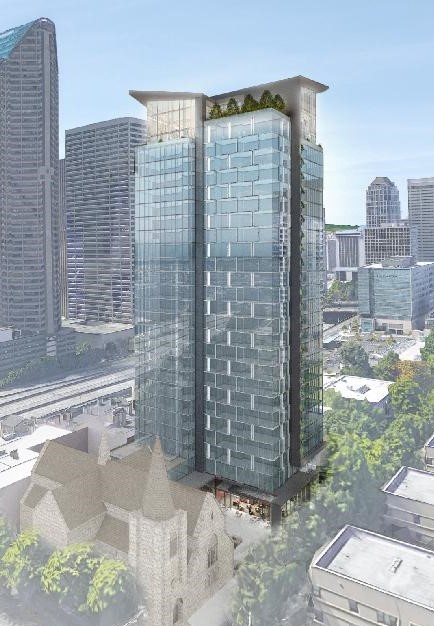 As we announced back in August, Trinity Parish on First Hill sold the development air rights to the north half of their lot to Caydon Property Group of Australia for the development of a residential tower. According to PSBJ, the tower will be condominiums and will contain 204 units in a 28 story 300 foot tower with 220 parking spaces if the preferred design is approved by the city.
The tower will be located at 615 8th Ave, on the corner of 8th and Cherry. Trinity Church will remain on the site but the ancillary buildings will be demolished to make room for the tower. The pedestal of the tower will contain the residential lobby along with a retail space and the parish hall and meeting and support spaces for the church. Units will consist of studio, 1 bedroom and 2 bedroom units. There will be a roof deck and amenities on the top floor.
There is no development timeline yet but we will continue to keep you posted.