We attended a recent preview event for Salt condominiums in Ballard this last weekend and learned that they have changed the floorplates for some of the floors to allow for an increase in the number of 2 and 3 bedroom home options in the building. According to the sales team, there has been a demand for more large units, as the vast majority of the options in Salt were one bedrooms.  The overall number of units went down from 38 units to 34 in total, but they now have 8 additional options for larger condos that will be either 2 and 3 bedroom.
Changes & Updates:
Floors 1 and 2 will retain the original floorplate and plans
Floors 3 through 6 will remove 3 one bedroom units and replace those with 1 two bedroom and 1 three bedroom
The newly added 2 bedroom units have 2 baths and are 966sf
The newly added 3 bedroom units have 2 baths and are 1042sf
The builder will do light customizations to units as well as long as you purchase them early enough in the construction process
Now that there are 34 units, every unit should have a parking space as there are 34 parking spaces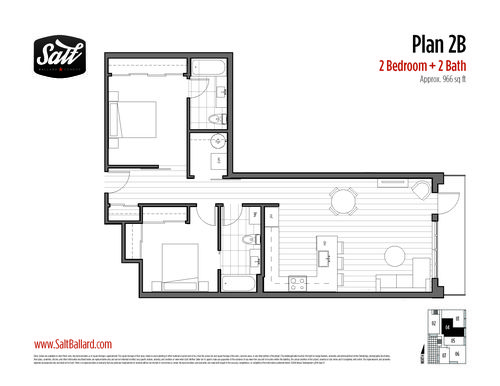 To note: the newly added 2 bedroom units don't have any windows in either of the bedrooms and only 1 bedroom in the 3 bedroom units have a window.
By Marco Kronen with Seattle Condo Review: A guide to Seattle downtown condos.