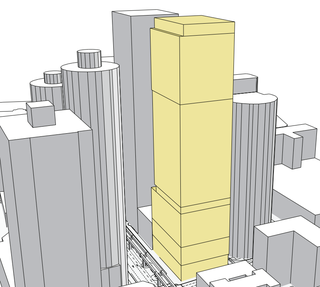 As we reported back in January, two new 50 story towers were planned for 5th Ave for the northwest corner of 5th Ave and Stewart and one on the southwest corner of 5th Ave and Virginia.
Today, PSBJ reported that the lot on the SW corner has been sold. The company now plans to scale back the size slightly, from 50 stories to 46 stories. The plan is to build a hotel and residential tower with 395 residential units and 151 hotel rooms. The building will replace the Icon Grill, which has been operating in that location for 17 years.  So not much in terms of updated news here, just a few more details to share. Still no word on whether the residential units will be apartments or condos.
As a recap, the other building on the block, Altitude Sky Tower, will also contain a mix of hotel rooms and residential units but will have both condos and apartments in the residential mix.
Both buildings will impact the views and outlooks in those units in Escala on the east side and potentially those on the south side as well.
Rendering courtesy of Perkins + Will

By Marco Kronen with Seattle Condo Review: A guide to Seattle downtown condos.