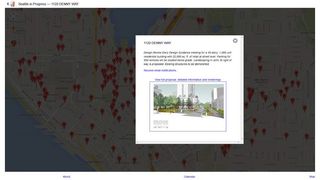 Ever wish you had a crystal ball to see what that vacant lot near your condo might be someday? It's not a true crystal ball, but it's close: www.seattleinprogress.com.
If you are thinking about selling your condo or buying one here in Seattle, potential development near your building can have an effect on both current market value as well as future market value.  Not to mention just knowing what is coming is valuable information.  For example, will there be new retail or a new grouping of townhomes that will gobble up a bunch of street parking near your condo? Will there be a new building that will block your current view?
But with so many new construction developments, how can the average person keep up and more importantly keep informed? Just today when driving down Lakeview over the I-5 overpass, Loren and I counted 17 construction cranes towering over the city, just in the South Lake Union and Denny Triangle area alone!  There are cranes in Ballard, on Capitol Hill, in Roosevelt, you name it.  And those are just the cranes you can see now.  But what about if you could see into the future, even before a crane or construction trailer hits the site?  Well you can now, sort of.


It's called "Seattle in Progress" and I wanted to pass this along since it is one of the coolest apps I've seen in a while.  
In a recent article in Geekwire about this online application, I learned that at the swipe of a finger on your mobile device you can zoom in on your location, or any Seattle neighborhood location, and get all sorts of instant information about proposed developments, and even see photos/renderings of the building, townhomes, etc. that are going to be built. No more needing to plow through the city's DPD site.  This app gathers all of the public information from the city's construction permits and design proposals and puts it into one simple interface based off of the ever familiar google maps. Just look at the map and click on the red pin near your interested site and, voila, the virtual crystal ball appears in your hand.
Check it out and stay informed. I've been using it daily, and so far am pretty impressed, not only with the ease of it, but frankly at the sheer number of proposed projects in our city.  Zoom out and see all the red pins on the map, and you'll be amazed at all of the upcoming projects in every neighborhood in our city. Knowledge is power in our fast moving Seattle condo market, so before you consider selling your condo or buying one, check out what type of new development activity is planned nearby. It may have an effect on your timing or even your decision to move forward at all with the sale of your condo, or your purchase of one you've been thinking about.
Curious on your thoughts, is this a helpful app for you? Is it something you'd like to see linked to within on our site?
By Marco Kronen with Seattle Condo Review: A guide to Seattle downtown condos.